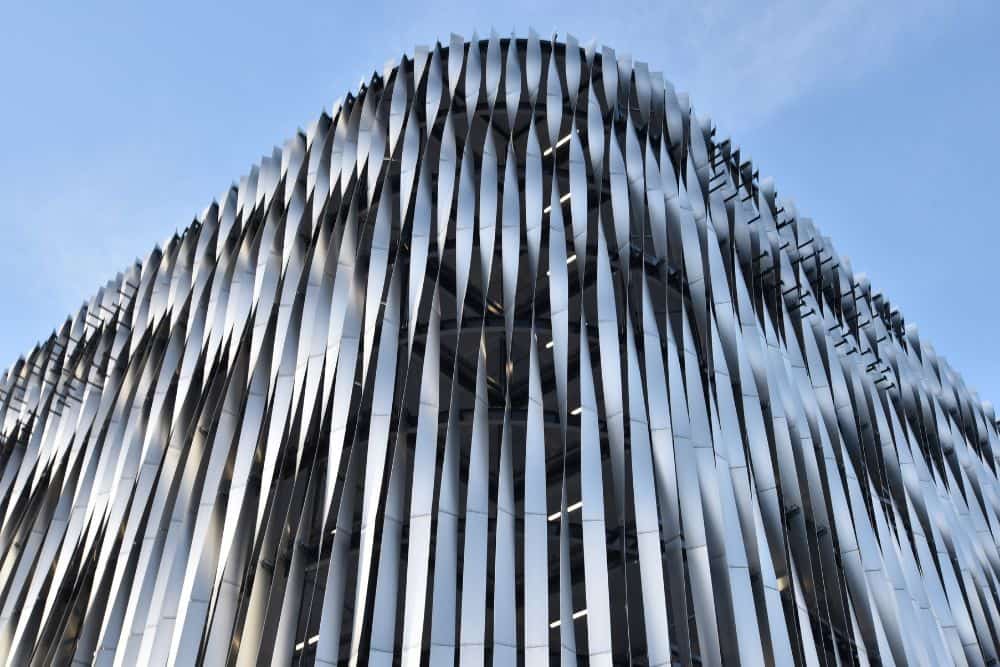 A decorative façade that makes a striking visual impact
Twisted fins can be configured to meet the different aspects of any design brief. The angle and position of the twist, orientation and overall pattern can all be designed to meet the most exacting requirements of any façade.
In car park projects, Maple's twisted fin façade blades have a spring-load mechanism to counter the natural building movement and retain the blade pattern and positioning. We also offer a range of materials to provide a shine or colour option.
FEATURES
Flexible design and orientation - vertical or horizontal
Aluminium blades are powder-coated or anodised for a shined or coloured finish (see blade options below)
Grade 6063 T6 extruded aluminium profiled blades can be set to desired pitch
Brackets fit curtain walling mullions
All fixings A2 stainless steel
Fitted by fully certified façade installers
Three-year manufacturer's warranty
Patent Number: GB2102031.8 - Twisted fin Machine. Date of Publication 18.05.2022.
blade options
Fin size
(AxB)mm
Rectangle
(Rc)
Elliptical
(El)
Aluminium
(Al)
Perforated
(Perf)
Timber
(Ti)
Glass
(Gl)
Perspex
(Pe)
190 x 40
—
—
—
—
240 x 40
—
—
—
—
280 x 40
—
—
—
—
300 x 6
—
—
—
—
—
400 x 6
—
—
—
—
—
500 x 6
—
—
—
—
—
250 x 50
—
—
—
300 x 50
—
—
—
400 x 50
—
—
—
500 x 70
—
—
—
600 x 70
—
—
—
300 x 17.5
—
—
—
—
—
—
400 x 17.5
—
—
—
—
—
—
500 x 17.5
—
—
—
—
—
—
200 x 12
—
—
—
—
—
—
300 x 12
—
—
—
—
—
—