A façade project that took its inspiration from Liverpool's maritime history wasn't all plain sailing, says the man at the helm.
But Willmott Dixon project manager Andy Beale believes the quality of Maple's fabrication and installation has produced a fantastic end product.
We've completed work at the Kings Dock car park on Liverpool's Monarch's Quay, where laser-cut aluminium panels cloak the seven-storey building with an abstract pattern inspired by iconic sailing ships.
"It was a difficult technical project that wasn't without its challenges – both in terms of the intricacy of the design, and the very exposed, windy site," said Andy, who also worked with Maple on the city's Victoria Street car park.
"We brought a lot of shared knowledge and learning from that project and, once again, the early engagement between Willmott Dixon, Maple and the architect was important."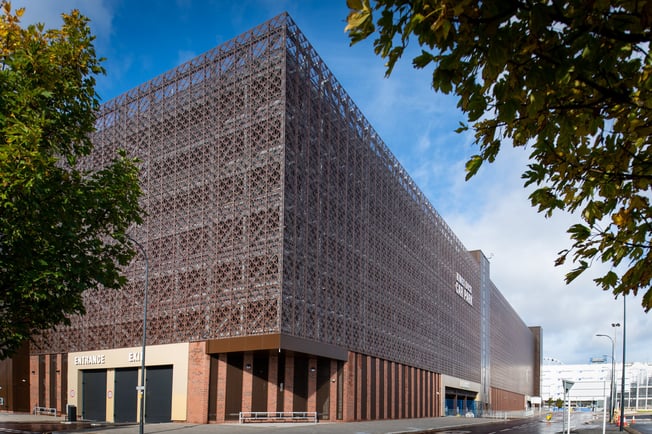 Together, we established the most practical and cost-effective way to bring the architect's vision to reality. The solid, laser-cut and expanded mesh panel types were also tested in a wind-tunnel, and designed to withstand winds of up to 120mph. It's that attention to detail that impressed Andy most.
He added: "The quality of the end product – from the manufacture to the installation – is great. For example, where the pattern splits over two panels, it lines up perfectly. We're very pleased with the results."
The new, 1,453-space car park will serve the M&S Bank Arena, BT Convention Centre and Exhibition Centre Liverpool. It will replace the previous car park at King's Dock, which was destroyed by fire, along with 1,400 cars, on New Year's Eve 2017.