To celebrate landing our 30th car park project, we asked the Maple team to vote for their favourite.
It was a tough choice. In the last decade, we've been using architectural façades to help architects and clients across the UK create car parks that are important landmarks in our towns and cities.
Imaginative designs we could hardly have imagined when Maple completed its first project at Addenbrookes Hospital in Cambridge are now winning prestigious design awards and are even being described as 'cool'.
"To reach 30 gives us a real sense of achievement," said Maple's Managing Director, Sean McGrath, "knowing that we're one of just a few companies in the industry with the expertise to use car park façades to make a real impact on the urban landscape."
Maple's Top 5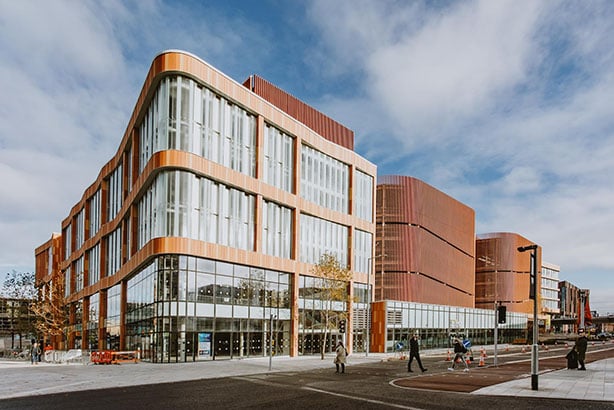 Vertical aluminium fins, and panels in glass and terracotta cladding create a car park that simply doesn't look like a car park. The standout features of the 1,200-space multi-storey and bus station are a series of high-level, laser-cut panels that show images and quotes to represent the local area and the diversity of the community.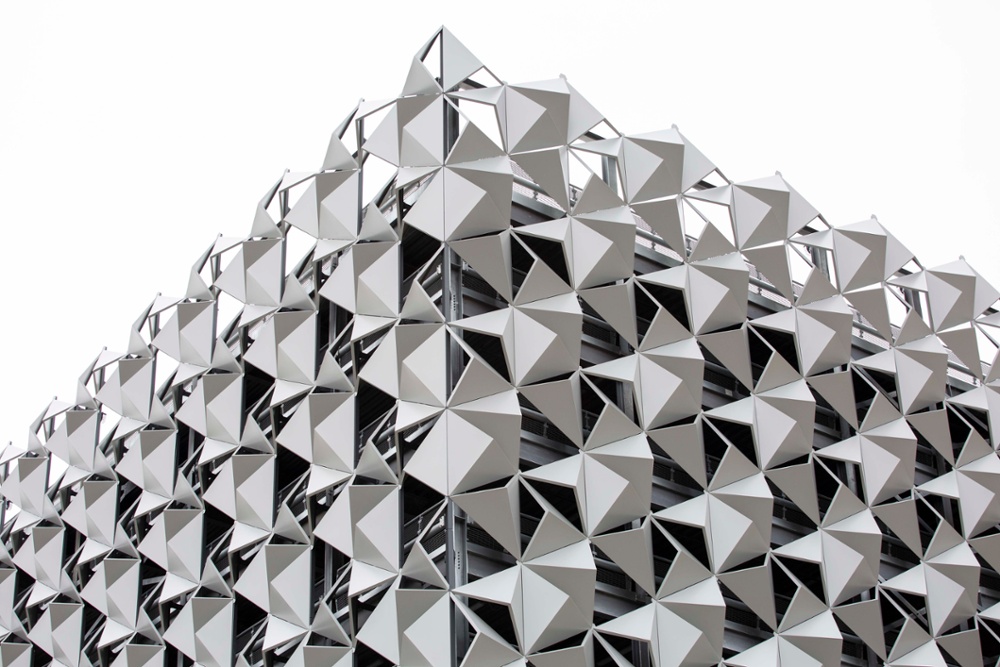 After the architect visualised the ingenious concept with folded paper, Maple turned his vision into buildable reality with 3D hexagons made from 2,023 identical triangular panels. As well as looking amazing, the façade is designed to protect neighbouring apartments from light pollution from car headlights.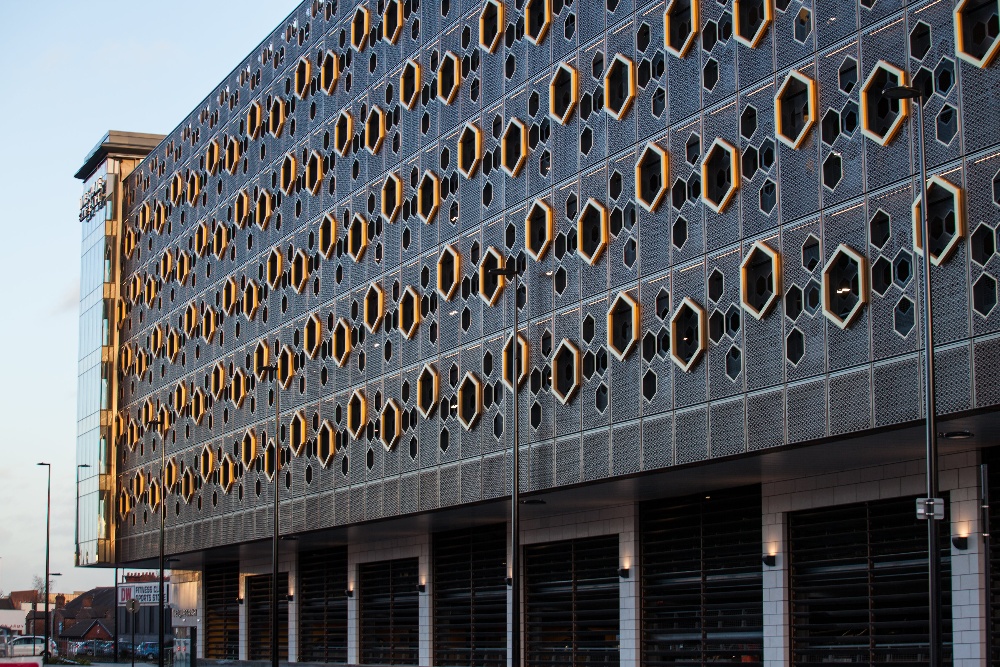 A façade of back-lit perforated panels with golden hexagon cut-outs was inspired by local landmarks and Warrington's industrial heritage. The project, which also features solid panels and aerofoil fins covering the area of a football pitch, was one of the first to use the prototype area at Maple's factory in Stockport.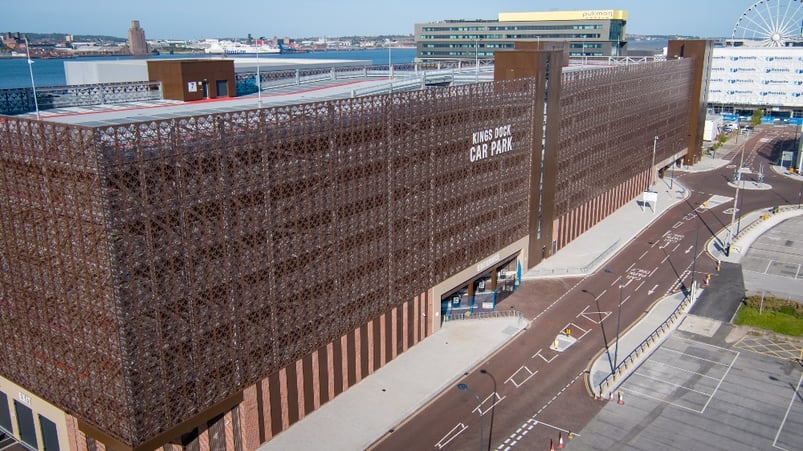 Laser-cut aluminium panels create an abstract pattern, inspired by historic sailing ships, on the city's biggest car park. The exposed waterfront site meant the panels were tested in a wind-tunnel, and designed with internal stiffening ribs to withstand gusts of up to 120mph. Solid and expanded mesh panels complete a memorable project.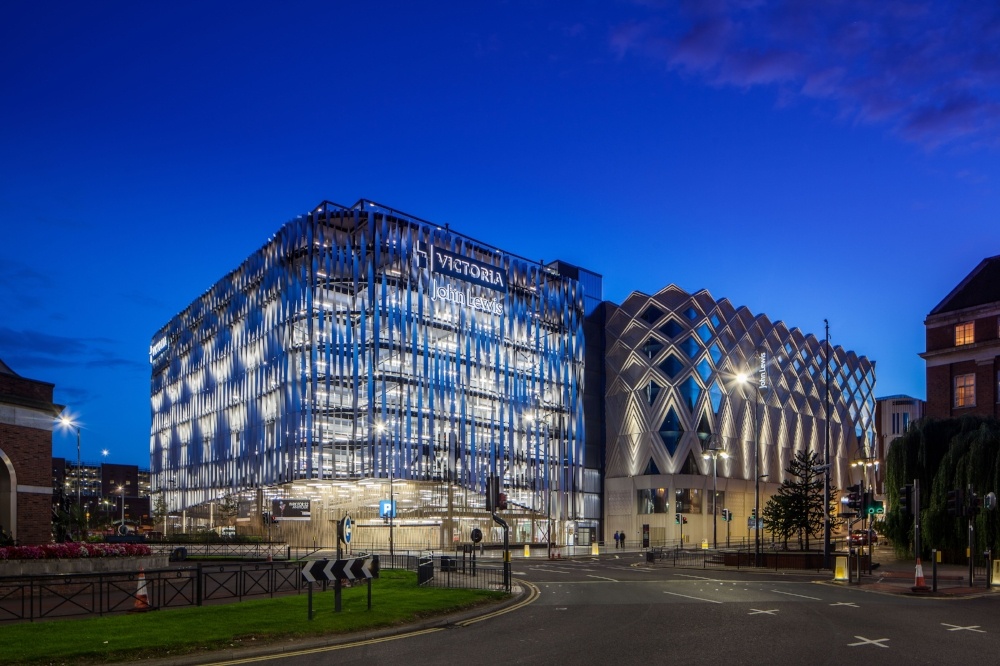 Perhaps it's no surprise that a car park voted Coolest Car Park in the UK (and third-coolest in the world) is also Maple's favourite. Millimetre-perfect twisted steel fins create a unique diamond-effect façade that sparkles in the light. We even incorporated springs in the fixings to absorb car park movement and prevent the fins from bending or breaking.