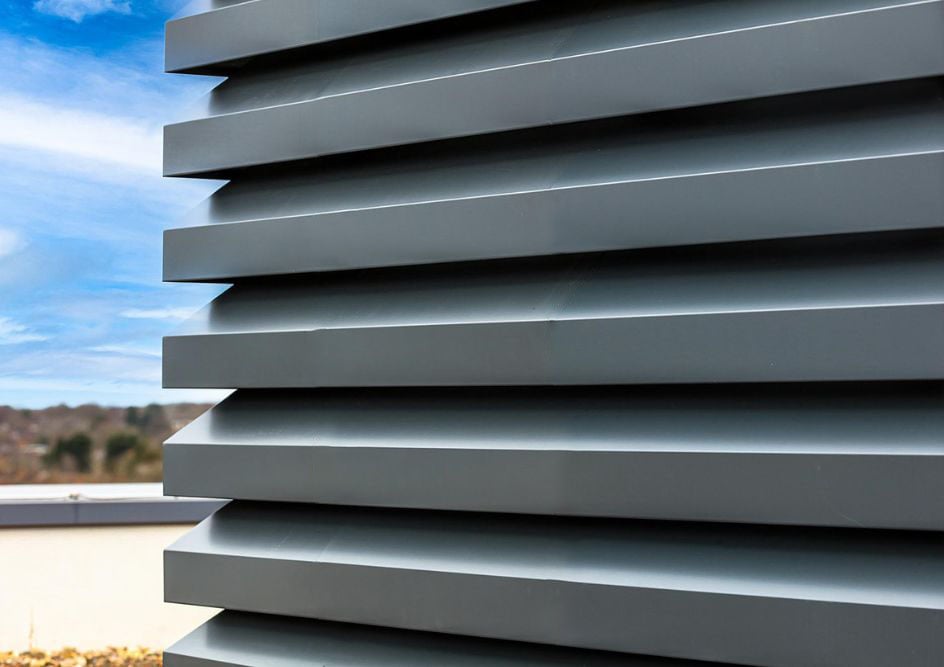 A NEW STANDARD IN WEATHER LOUVRE SYSTEMS
Maple have created a commercially compelling weather louvre system with a patented aerodynamic blade profile that can be easily converted from single-bank to double-bank to deliver Class A performance.
The innovative system is the result of extensive research and development – we used Finite Element Analysis, Computational Fluid Dynamics and data simulation, and combined it with years of knowledge and experience. The result is a system that keeps the core velocity of airflow to a maximum and reduces pressure drop but still prevents water ingress.
The new high-performance system sets new standards ― tested and certified by BSRIA to deliver Class A performance at wind speeds of up to 2 metres per second and Class B at 3 metres/second.
Key benefits:
Class A performance at <2 m/s face velocity

Single or double-bank louvres with modular design

Options for bird mesh, and standard or insulated blanking panel

Available with single and double-door options

Mullion design incorporates side drainage

Designed to provide the same external aesthetics as traditional louvre systems
improved efficiency and performance
Manufactured in extruded aluminium, the system guides airflow above and below the blades ― resulting in an effective 'laminate' airflow with minimal turbulence. In response to architects' aesthetic requirements, the advanced profile incorporates a front-facing lip that does not affect performance.
A COMPLETE SYSTEM
Our high-performance louvre can be changed from a single- to double-bank system using a unique clip-on design, without the need for additional brackets or modifications to the existing mullions. The system also incorporates a drainage system to remove water that has been trapped.
BSRIA-TESTED
When compared to the BSRIA test results of standard Class B systems, Maple's patented weather louvre offers more than 5% extra efficiency against the elements. Our Class A louvre system performs at 98% efficiency levels.
Patent Number: GB2567627 - Exterior Vent-Louvre Assembly. Date of Publication 24.04.2019.